Survey asks if applicants are honest about breed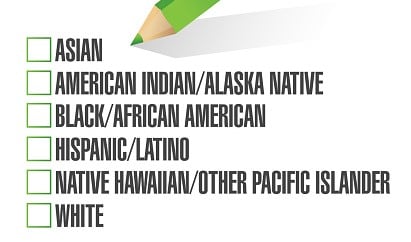 Most colleges and universities aggressively seek out applicants from minority backgrounds. They want diversity on their campuses. They want students who might have been excluded in the past to feel welcome.
All of this raises a question: Are students telling the truth about their race and ethnicity?
The Smart website recently asked white Americans if they were telling the truth about their race when they applied to college. (Smart is a data-driven website that aims to "create content that helps you live better," with a focus on college students.) The survey was conducted among 1,250 white adults who applied at University.
The main finding: 34 percent of white Americans who applied to colleges or universities admit to lying about being a racial minority when they applied. The most common lie (by 48% of those who lied) was to be a Native American.
White men were three times more likely than white women to lie (48% to 16%).
Older Americans were less likely to admit to lying about their claims. Of those surveyed, 9 percent were under 25, 24 percent were between 25 and 34, 40 percent were between 35 and 44, and 27 percent were over 44.
"For college applicants who are trying to give their candidacy a boost by pretending to be a racial minority, they can grasp this idea that many Americans of European descent have Native American DNA in their lineage," Kristen Scatton, Editor-in-Chief of Intelligent, mentioned. "However, research has shown that this is not that common, especially among white Americans. But applicants are betting that no college will ask them to provide a DNA sample for verification."
In terms of the reasons they lied, 57% said they thought they would have a better chance of being admitted. Thirty-five percent said they believed that by lying they would get better help.
More than three-quarters of those who lied (77%) said they were admitted to colleges to which they lied. And 85% of them said they thought their lie helped them.
Admissions experts have different views on the investigation. Most said colleges do not systematically try to verify applicants' responses on their race or ethnicity. Some doubted that such a large percentage was lying. And they said the responses indicate misperceptions about the admissions process. But they agreed that lying is a problem.
What the experts say
Jerome A. Lucido, executive director of the Center for Enrollment Research, Policy and Practice at the University of Southern California, said by email he was struck by the high percentage of people who believed their lie helped them to enter. "Most colleges and universities across the country aren't very selective, and many take all the students they think can do the job," he said. "So while the rate of admission of 75% of those who report lying about their racial / ethnic heritage seems alarming, these students may have been admitted regardless of their deception. "
He added: "In a selective and holistic admissions office, and especially those who are race conscious or race conscious in their decision making, race is not an isolated criterion. Any mechanistic use of race was banned by Supreme Court jurisprudence a long time ago. Instead, race, culture, and identity are seen as inseparable from who the candidate is as a student and future member of the community. In other words, the diversity a student brings to the table is a key part of who they are, the perspectives they bring and how they can both benefit from the learning environment. and contribute to it. This means that simply checking a box has a dubious advantage. An app that holds up is an app in which activities, essays, community engagements, and recommendations also reflect the culture and perspective of who the student is.
Lucido also said: "It is not only dishonest but misguided to lie about the claim about race or other things… The triangulation that takes place when trained admissions officers read the records usually reveals the truth. And, of course, as the study's authors note, one can and should be fired for lying on demand. "
Emma Steele, senior public relations director for the joint bid, said all applicants must sign an affirmation before submitting an application. This statement reads: "I certify that all information submitted in the admissions process – including this application and any other supporting documents – is my own work, factually true and honestly presented, and that such documents will become the property of the institution to which I am applying and will not be returned to me. I understand that I may be subject to a range of possible disciplinary actions, including revocation of admission, expulsion or revocation of course credits, grades and diploma if the information I have certified is false.
She said individual colleges may also have additional steps to deal with applicants who are lying about race (or whatever) in the admissions process.
Angel B. Pérez, CEO of the National Association for College Admission Counseling, said: "This data really saddens me. The fact that students would believe they would be discriminated against because they are white shows that we have a lot of work to do in this country around racial reckoning and understanding systemic inequalities.
He added, "While I think it's important for colleges to be aware of this, it shouldn't be another thing to lay in the lap of admissions officers. They are not the ethics police. I believe my colleagues who are admissions officers will ask questions when part of the application seems unethical, but it is not their job to comb through applications with a skeptical eye. The reality is that the majority of students around the world still submit accurate information to colleges and will continue to do so. "
The problem has already happened
The issue of students lying about their ethnic or racial identity has already been raised. In 2016, a American Indian published a book to pretend to be black in order to be admitted to medical schools that wouldn't have given him time for the day with his college grades (and his Asian origins). But, the book says, he had no problem garnering the interest of top medical schools as a (fake) Black American.
In 2018, Inside higher education wrote about a guidance counselor's unease with what was not (technically) a lie.
"The first thing this father says is that the child's grandmother was born in Colombia, and he asks, 'How can we use this for the benefit of our son?' "
In her admissions work, the counselor (who asked that her name not be used as she is talking about a client) said she discussed affirmative action and issues of racial and ethnic identity with students and their parents. But that was never the first question asked. And the family background (wealthy, able to afford private school for their son) and the son's academic record (poor for one applying to top universities) added to the counselor's discomfort.
Then other facts: the student had never been to Colombia, had never met his grandmother and – apart from the coaching of his parents to highlight his links with Latin America – had never no idea of ​​being Latino (on the one hand his family). But he wanted to tick the Latino box in his candidacies.